On Line Credit Card Payment Method. Use the Trail Permit & Club Membership Application link below to the mail-in, drop-off, or email application so it ARRIVES BEFORE the deadline.

CLICK HERE to BUY PERMITS  Trail Permit & Club Membership Application. 
Save it to your computer as "Trail Permits",
then email as an attachment to: PERMIT CHAIRPERSON
Make a BIG DIFFERENCE by adding a Club Memberships – only $25.00 when completing your Trail Permit application.
The following locations will accept credit card as a form of payment for AVRR SANS Tail Permits.
G.W. Sampson
Park Street Trailer
Valley Yamaha
Jerry's RV
3 day permits are sold at select locations, call ahead
For list of all permit sales locations scroll down.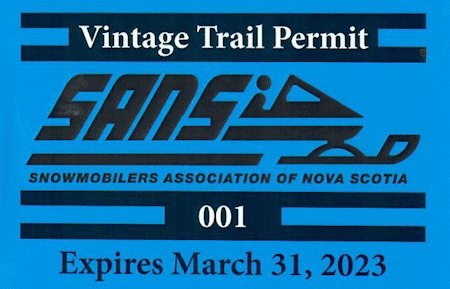 $28 ($25 plus $3 handling/postage fee)
OnLine price includes HST, mailing and handling/processing.
Please Email or mail a copy of the registration (see below) for all sleds you are purchasing a permit.
Once a Vintage Permit is purchased and your registration proof is received, the permit(s) will be mailed directly to the address on the registration.

Email: info@snowmobilersns.com
Mail:
SANS
5516 Spring Garden Rd.
Halifax, NS B3J 1G6
ONLY AVAILABLE FROM SANS OFFICE !
Replacement Permits – $10.00
Replacement Permits must be purchased from the club where the original was bought for $10.00. To receive a Replacement Permit, the original Trail Permit or portion there-of, plus the matching pink Trail Permit Receipt must be attached to the white receipt of the replacement permit.
Buy Where You Ride

The 'Buy Where You Ride' philosophy is promoted by the SANS and our member clubs. Please purchase your trail permits from the clubs that maintain the trails in the areas that you frequent. Snowmobilers who purchase more than one permit might consider dividing their purchases among clubs in different areas/regions depending on where you ride. When you support this philosophy your permit money goes directly to the clubs who maintain the trails on which you ride.
Permits are available from a variety of sources; local clubs, snowmobile dealers and service providers.
Valley Yamaha
1199 Parkway Drive
Port Williams, NS B0P 1T0
902-542-7678

Jerry's RV Sales
9384 Commercial Street
New Minas, NS B4N 3E9
902-681-9501

Park Street RV
7006 Park Street
Coldbrook, NS B4N 4H8
902-678-8678

Need's Berwick
Roxanne Veinotte
174 Commercial Street
Berwick, NS B0P 1E0
902-538-7122

Coldbrook Fast Fuels
7203 Highway 1
Coldbrook, NS B4R 1A2
902-678-3323

Corkum's K & A Pipe Culverts
272 Windermere Road
RR# 1 Berwick, NS B0P 1E0
902-538-806




GW Sampsons
684 Main Street
Kingston, NS
B0P 1C0

GO POWERSPORTS
840 Park St
Kentville NS
B4N 3V7
855 681 3382
www.gopowersports.ca